SPONSORSHIP
Japaneseusedcars.com is proud sponsor of Phil Morrison and Driftworks in the UK D1GP
Drifting is the fastest growing motor sport in history, providing a new style of motor sports entertainment to a wide range of audience. Born in Japan some 20 years ago, drifting has evolved from secret night racing in Japan's mountains to the high profile events we see today. The D1 GP was formed in 2001 by Daijiro Inada and Keiichii Tsuchiya aka "Drift King" whom remains to be chief judge of the D1 GP. Starting on go-cart circuits, D1 is now at the pinnacle of the sport holding events all over the world at tracks including Sugo, Autopolis, Tsukuba, Suzuka, Irwindale USA and Silverstone UK.  Exhibition events are now being held in Europe, Malaysia, Singapore, Australia and New Zealand, This all falls into place with several national championships that are now underway to make D1 GP a World wide series.

What is drifting?

Drifting is a high-skill level motor-sport in which drivers control a car while it slides from side to side at high speed (approx. 80 to 100mph) through a fixed course. It is similar to Rally racing on ice barn, but is done on a tarmac (paved course) and judged on speed, angle of attack, execution and style rather than just who finishes the fastest. Drift cars are typically compact to midsized, rear-wheel-drive sport cars. The goal is to apply enough power to the rear wheels to break the tires' traction and initiate a slide while accelerating the vehicle forward, or "drift" Once a drift is initiated; it must be maintained through the turn using nearly a full power, a tap of braking and precise counter steering.
A Word From Phil Morrison:
"We are very proud to have the support of japaneseusedcars.com as an official sponsor of the Driftworks number one D1GP demo car. Driftworks Ltd ( www.driftworks.com ) is a mail order drift specific performance parts and merchandise store, based in England.. We have been at the forfront of Drifting in Europe since it's inception, and are very excited to be working with the well established vehicle import/export company Japaneseusedcars.com , to import the vehicle which we will develop over the winter, to replace the Driftworks S14 for the 2007 season."


Phil Morrison at work in the Driftworks Silvia
"This could be The Next Big Thing" [AutoWeek magazine]
"At its most refined, a stylish drift is a thing of balance and beauty. " "Like skateboarding, drifting is starting to look like the next pop fusion of consumer culture and rebel aesthetics... " [Wired magazine]
"It's like the last lap of the best road race you ever saw repeated over and over again." [SportsCar (SCCA) magazine]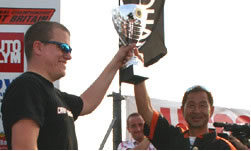 Our man Phil Morrison receives the winners trophy
for Round 2 of the D1 GB Great Britain from Keiichii Tsuchiya aka "Drift King"