Japaneseusedcars.com are proud to be involved in motor sport around the world and sponsor drivers and events in many countries. At the present time Japaneseusedcars.com are or have been involved with sponsorship of events and drivers in 8 countries including England, Scotland, Ireland, New Zealand, Canada, China, Japan and the U.S.A and we look forward to increasing our global involvement of events and competitors. Japaneseusedcars.com have just agreed to sponsor the 2007 D1NZ Final Round at Pukekohe Raceway in New Zealand to be held on Nov. 11th. This is the pinnacle of Drifting in NZ and will be an exciting climax to a hard fought series. Further sponsorship of the D1NZ series for 2008 will be announced at a later date. D1NZ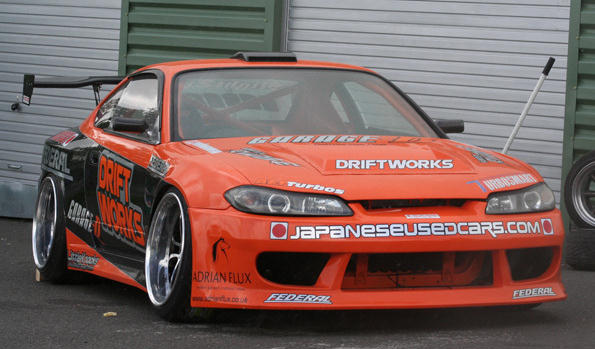 Phil Morrison's Japaneseusedcars.com sponsored EDC 2008 S15 Silvia running a 2JZ GTE 3.0 Supra engine making 590 H.P.
We are currently sponsoring Sean Falconer and Victor Chapman two top NZ drivers traveling to China to compete in the Toyo Tires Asia Pacific Drift Championship. This is to be run in conjunction and prior to the Chinese round of the Formula 1 Grand Prix held in Shanghai on the 7th October 2007. Top Japanese drivers Masato Kawabata, Sakuma Tatsuya, Suenaga Masao & Kuroi Atsuhsi, Malaysian drivers Narril Afifi Bin (Along) & Lim Zee King, New Zealand drivers Sean Falconer & Victor Chapman Sponsored by Japaneseusedcars.com as well as Nick Li & Johnny Udy along with drivers from Singapore & China who will battle it out to find the Asia Pacific Drift Champion.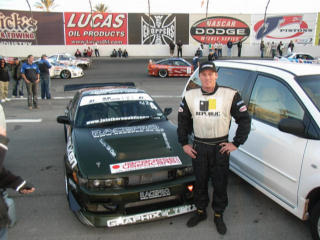 Sean Falconer finished in the top 16 at the D1 All-Stars Drift Championship in Irwindale Nov 2006
Japaneseusedcars.com also sponsor the TimeAttack series in the UK and are also involved in bringing four of the top UK TimeAttack cars over to Japan to run at Tsukuba Circuit for the TimeAttack event to be run in December 2007. TimeAttack involves running timed laps to find the quickest car around a circuit and this famous Japanese circuit Tsukuba is the ultimate as the drivers and their cars will be competing against Japan's fastest tuner cars. The cars coming over for this great event are the Sumo Power Pink 350Z, RC Developments Yellow Evo 6, Fensport / Blitz 4WD Celica, Zen Performance GC8 Subaru (the 2007 TimeAttack Uk Series winner). At least two of these 4 cars will be on show at the Tokyo Auto Salon 2008 which is the world's largest custom & tuner's car show and has a world wide following. TimeAttack
The four TimeAttack cars Japaneseusedcars.com are bringing over to Japan to run at Tsukuba below.
| | |
| --- | --- |
| | |
| Andy Barnes Sumo Power 350Z | Adrian Smith Fensport Celica |
| | |
| Clive Seddon RC Developments Evo6 | Matt Alison Zen Performance WRX 2007 Champion |
We also sponsor the European Drift Championship in the UK known as The EDC along with top drivers 2006 D1UK champion Phil Morrison of Driftworks fame, Ben Broke-Smith and Chris Parry. Phil's new Japaneseusedcars.com sponsored S15 Silvia is running a 2JZ GTE 3.0 Supra engine making 590 H.P. and will be used in the 2008 EDC series. In Ireland we sponsor Darren McNamara the 2006 Irish champion in the Prodrift Ireland series and in the U.S.A Darren competes in Formula D and D1 U.S.A drift championship series. Darren is currently the leading driver in the 12 car Falken Tires drift team EDC Prodrift Formula D Driftworks
| | |
| --- | --- |
| | |
| Phil Morrison 2006 D1UK Championship winning S14 | The Driftworks 2007 EDC R32 |
| | |
| Darren McNamara competes in Formula D & D1GP USA 2007 | Darren McNamara in Prodrift Ireland series 2007 |
Japaneseusedcars.com sponsored 4 of New Zealand's top Drift drivers known as "Team Kiwi" to travel to Irwindale California to compete in the D1 World All-stars Drift Championship held in Nov. 2006. The team members consisted of Sean Falconer, Darren McDonald, Victor Chapman & Adam Richards. Japaneseusedcars.com management were on hand to witness this incredible event and strong relationships were formed as a result. This fantastic event involved the worlds top drivers competing against each other to find the worlds best Drifter. Sean Falconer from New Zealand was the top Kiwi and finished in the top 16. Drivers from NZ, Ireland, England, Malaysia, Japan and the U.S. ran head to head in this exciting event that was finally won by Japan's Ken Nomura in his Blitz sponsored R34 Skyline. The next D1 All Stars World Drift Championship event can be found here D1 All Stars D1GP D1GP NZ D1 Japan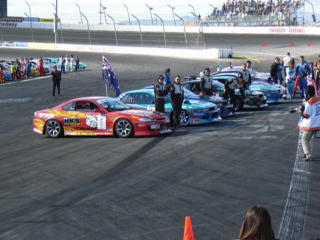 Team Kiwi at Irwindale Speedway California 2006
We have also previously been involved in sponsorship of ImportFest Canada's biggest import tuner show held in Toronto Nov 2006. Canada's best car tuners and customized import cars competed for a range of prizes at this prestigious show. ImportFest
The team at Japaneseusedcars.com traveled to the UK recently to attend round 3 of the EDC and TimeAttack 2006 series at Knockhill Scotland in July and were very impressed with the high skill levels shown by the competing drivers and the professionally run EDC - TimeAttack event. Our management team were warmly welcomed and many new friendships were formed as well as cementing further some old relationships.
In November 2007 our Management team will be Traveling to NZ to attend the Japaneseusedcars.com D1NZ Final Round at Pukekohe Raceway where they will be able to renew some old relationships formed at Irwindale in 2006 and establish some new friendships.
The team at Japaneseusedcars.com look forward to continuing our support of motor sport and related events and will bring you further reports and updates of our successful competitors, shows, series and events.